Are looking for professional AC repair in Fairfield NJ? Our expert certified technicians are Ready to tackle all types of air conditioning issues efficiently. We strive to provide top-tier services to ensure your system functions optimally for prolonged periods. We understand the need for a functional AC during stifling summer months and guarantee prompt, reliable repairs. Our team is trained to handle various brands, thus ensuring your specific air conditioner model is within our expertise. Regular maintenance can avoid costly future repairs and enhance your system's lifespan. Trust us for all your AC repair in Fairfield NJ
Get 24-hour service with no extra charges or fees
Are you in search of a Fairfield NJ heating repair expert? Look no further. Our team of seasoned technicians can rectify any heating issue you may encounter promptly and effectively. We specialize in a wide array of heating systems, ensuring your home remains warm and comfortable, particularly during the frosty winter months. Our customers' satisfaction is our top priority. Therefore, we provide top-tier services at excellent rates. We are equipped to handle regular maintenance, installations, and, primarily, all forms of heating repairs. With our hands-on experience and industry knowledge, we are qualified to offer optimal solutions for your heating concerns. Contact our Fairfield NJ heating repair experts today for a smooth and reliable service.
Air Solutions LLC is your trusted source for high-quality air conditioning repair services, delivered by our skilled and experienced technicians. Our professional team possesses in-depth knowledge and expertise in dealing with various air conditioning systems, ensuring optimum performance and prolonged service life. We understand how a malfunctioning air conditioner can disrupt your comfort and productivity, hence, we are committed to providing prompt, effective repair solutions. Leveraging up-to-date tools and techniques, we diagnose the issue accurately and rectify it to restore your comfort as quickly as possible. Rest assured, with Air Solutions LLC, your air conditioning system is in expert hands. Trust us to meet your air conditioning repair needs with utmost precision, efficiency, and care. we are the best air conditioning services in Fairfield NJ.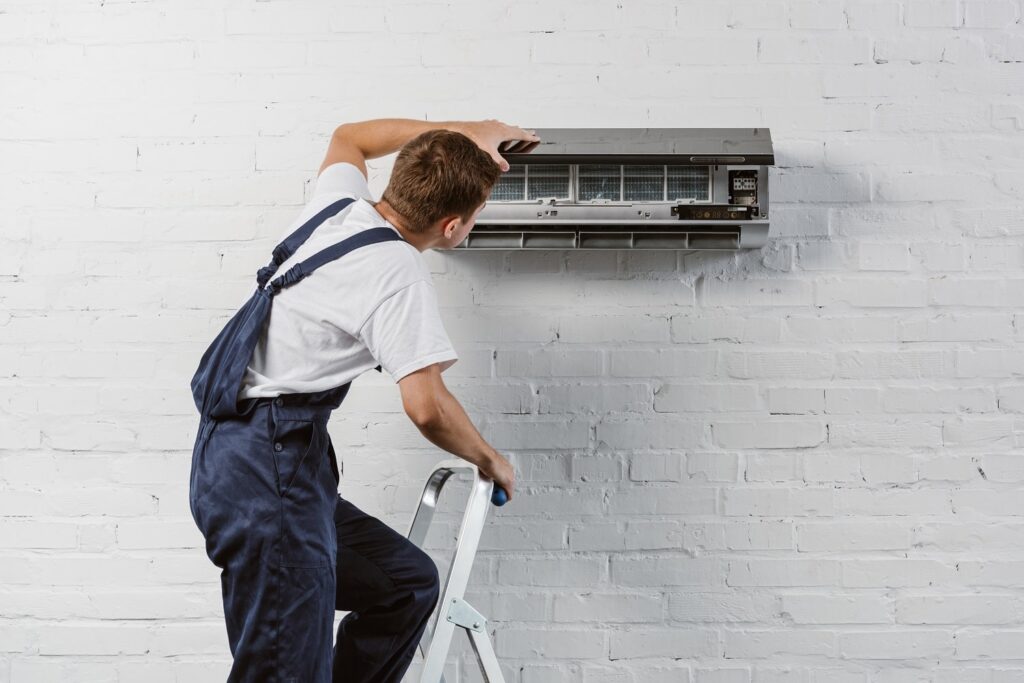 AC Installation Service in Fairfield, NJ
At Fairfield, NJ, we pride ourselves on offering unmatched AC installation services. Our technicians are expertly trained and certified to handle any installation task, ensuring consistent quality at every stage of the process. Understanding the importance of a properly functioning AC system, we utilize state-of-the-art equipment and techniques to install new AC units effectively. We also provide detailed consultations to guarantee that your new system suits your specific needs perfectly. Our passionate dedication to customer satisfaction and our commitment to thorough professional practices make us the leading AC installation service in Fairfield. Choose our service for an efficient, cost-effective, and stress-free installation.
Affordable Central AC installation in Fairfield NJ
If you're in pursuit of affordable Central AC installation in Fairfield, NJ, look no further. Installing an efficient cooling system is essential for ensuring a comfortable and healthy home environment, especially in the heat of summer. We're here to provide a cost-effective solution that doesn't compromise on quality. Our team of expert technicians possess years of industry experience and are committed to carrying out installations with precision and care. Working with top-tier brands, we guarantee durable and high-performing AC systems that offer optimum energy efficiency. We understand that AC installation is a significant investment, which is why we ensure our rates are competitive, transparent, and offer exceptional value for money. Using advanced tools and techniques, we ensure a seamless installation process with minimal disruption to your daily routines. Trust us to deliver extraordinary service and unbeatable affordability when it comes to Central AC installation in Fairfield, NJ.
At Air Solutions LLC, they believe in transparency when it comes to pricing. You can trust them to provide fair and competitive rates for their AC repair services in Fairfield, NJ. Before starting any work, their technicians will provide a detailed estimate, outlining the necessary repairs and associated costs. No hidden fees or surprises – just honest and upfront pricing.
Customer satisfaction is at the core of Air Solutions LLC's business philosophy. They strive to exceed your expectations in every aspect of their service. From the moment you contact them to the completion of the AC repair, you can expect professional and courteous treatment. Their commitment to excellent customer service has earned them a stellar reputation and a loyal customer base in Fairfield, NJ.
When your air conditioning system falters, don't sweat it out. Turn to Air Solutions LLC for reliable and efficient AC repair services in Fairfield, NJ. Their team of skilled technicians will get your AC back up and running, ensuring your comfort and peace of mind during the scorching summer months. Contact Air Solutions LLC today and experience the difference of working with a trusted name in the industry. Stay cool, Fairfield!
Introduction
Nestled in the heart of Essex County, Fairfield, New Jersey, forms a picturesque tapestry woven with the threads of rich history, cultural diversity, and vibrant community life.
Community Life and Attractions
Fairfield is a warm and welcoming town known for its strong community spirit. Fairfield's residents frequently gather to celebrate various community events, demonstrating the town's camaraderie. This township takes pride in its extensive recreation programs, community groups, and clubs, providing a myriad of opportunities for residents to engage and connect.
For the nature lovers, the town offers abundant scenic landscapes lined with shades of ancient trees. The Great Piece Meadows Nature Preserve, a wetland ecosystem, is an invaluable resource for environmental education and a peaceful retreat for those who need an escape from the hustle and bustle of city life.
Economic Thriving
From a business perspective, Fairfield exhibits steady growth. It's an attractive spot for businesses, attributed to its strategic location within proximity to New York City. The town is home to numerous global and domestic companies, contributing to the township's continually thriving economy.
Education and Quality of Life
Education is a core value in Fairfield with its well-regarded public schools and community education programs. The township also offers a variety of resources to its senior residents, ensuring a high quality of life for each generation.
Conclusion
Fairfield NJ, with its harmonious blend of small-town charm and modern amenities, along with a strong sense of community and high living standards, is truly a gem in the heart of Essex County. It stands as a testament to suburban life at its finest, offering an unmatched quality of life to its proud residents.
Monster Mini Golf Fairfield
Monster-themed mini-golf chain featuring a glow-in-the-dark indoor course, plus arcade games & a DJ.
Van Ness House
The Van Ness House, also known as the Peter Van Ness Farmhouse, is located at 236 Little Falls Road in the township of Fairfield in Essex County, New Jersey. The house was built about 1740. It was documented by the Historic American Buildings Survey in 1939.
Great Piece Meadows
Great Piece Meadows is a 7,100-acre fresh water swamp located in the towns of Lincoln Park, Montville, and Fairfield in New Jersey. The wooded swamp is mostly inside the bow of the Passaic River which floods during the year from heavy rain or heavy snow melt.
Best Ac Repair Fairfield NJ company