For air conditioning repair in Caldwell, NJ, you need a reliable, efficient, and professional company. As the weather in this region is unpredictable, having a fully functioning air conditioner is essential. During the hot summer months, your AC system will perform optimally with high-quality AC repair in Caldwell. The best repair services come from seasoned professionals who understand the city's unique climate and your specific cooling needs. Therefore, always choose a reputable AC repair service in Caldwell, NJ, to guarantee the longevity and efficiency of your system.
Get 24-hour service with no extra charges or fees
when you going to find the best heating repair services in Caldwell NJ you should choose an expert technician, Service providers should have extensive experience with a variety of heating systems, so they can repair them quickly and efficiently. A licensed heating technician with a wide range of diagnostic and problem-solving skills should form part of their team. In addition, the expert should use advanced tools and techniques to ensure the optimal performance of your heating system. Lastly, prioritize those who offer comprehensive service plans for preventative maintenance, to ensure your heating system functions efficiently all year round. By carefully considering these aspects, you'll find the right Caldwell NJ heating repair expert to suit your needs. Air Solutions LLC is the best option for Caldwell NJ people for heating repair
At Air Solutions LLC, we understand how important a fully functional air conditioning system is help you to stay cool in the summer season. For that reason, our expert technicians are dedicated to delivering prompt and reliable air conditioning repair services. With our team's vast knowledge and experience, we are equipped to handle any AC system issues you may encounter. We take pride in our ability to troubleshoot and resolve problems efficiently, minimizing your discomfort and downtime. Our commitment to unparalleled service and customer satisfaction places us as a leading choice for air conditioning repair. Trust Air Solutions LLC, where expert solutions and superior care are our promise to you.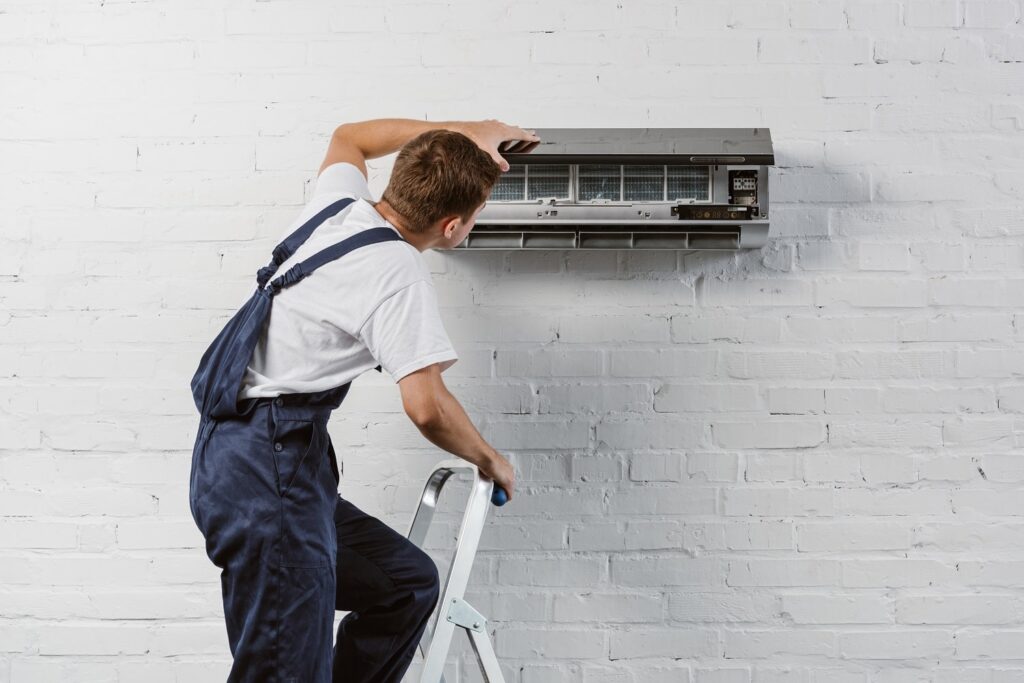 AC Installation Service in Caldwell, NJ
AC Installation Service in Caldwell, NJ offers expert and efficient installation of various AC models. This reliable service ensures your installed system operates optimally for ultimate comfort. Our highly skilled technicians employ the latest technologies, adhere to industry standards, and prioritize customer satisfaction. They conduct comprehensive assessments pre-installation to determine the most suitable AC system for your specific requirements. Besides installation, we extend premier maintenance and repair services, ensuring your system's longevity and efficient performance. We also provide same-day emergency services for unexpected AC breakdowns, guaranteeing minimal interruptions. With AC Installation Service in Caldwell, NJ, you can count on proficient, affordable, and prompt solutions for all your air conditioning needs.
Affordable Central AC installation in Caldwell NJ
At Air Solutions LLC, located in Caldwell NJ, we are committed to delivering not only optimum climate control solutions but also ensuring affordability without forsaking quality. Recognizing the fact that our clients require cost-effective, energy-efficient cooling systems, particularly in the domicile of the sweltering summer heat, our central AC installation services are aimed at maximizing both comfort and budget constraints. Our team of technically proficient installers can flawlessly fit central air conditioning systems in your home or business, while ensuring minimum energy consumption and long-lasting functionality. We are known for our unmatched installation precision, excellent customer service, and guaranteed lowest prices in Caldwell NJ. In addition, we offer free estimates and competitive financing options. Choose Air Solutions LLC for all your central AC installation needs and make the most of affordable comfort.
Introduction to Caldwell NJ
Caldwell NJ, also known as Caldwell borough, is a vibrant, charming, and historic community located in Western Essex County, New Jersey. With a unique mix of small-town atmosphere and big-city accessibility, Caldwell offers a quality of life that is second to none.
About Caldwell
Founded in 1892, Caldwell NJ proudly shields a rich historical heritage. Home to Grover Cleveland, the 22nd and 24th President of the United States, this town truly holds a special place in American history. Today, the Grover Cleveland Birthplace Museum stands as a testament to this legacy.
The borough features a plethora of local eateries, shopping outlets, and parks, providing an enriching environment for its residents. Caldwell's distinctly walkable downtown area, lined with diverse restaurants and charming boutiques, is a favorite amongst locals and tourists alike.
The Community in Caldwell
Caldwell NJ boasts a tight-knit community, with a population of approximately 8,000 people. The borough is known for its excellent school system and outdoor recreational facilities, making it an ideal place for families. Community events, parades, and farmer's markets are a recurring feature of Caldwell's calendar, reflecting the town's vibrant, communal spirit.
Conclusion
With its unique blend of history, culture, and modernity, Caldwell NJ is more than just a borough; it's a home, a community, and a place where memories are made. So whether you're a history enthusiast, food lover, or someone seeking a serene place to call home — Caldwell NJ has something to offer you. Transcending beyond the usual borough borders, Caldwell NJ warmly welcomes all who appreciate life's simple pleasures in an enriching environment.
Grover Cleveland Park
Grover Cleveland Park, the seventh-largest park in the Essex County, New Jersey, USA, county park system, is a heavily wooded park covering 41.48 acres in the western section of Essex County along the Caldwell-Essex Fells border.
Grover Cleveland Birthplace Historic Site
The Grover Cleveland Birthplace is a historic site located at 207 Bloomfield Avenue in Caldwell, Essex County, New Jersey, United States. It is the only house museum dedicated to U.S. President Grover Cleveland.
St Aloysius Roman Catholic Church
We are located in Caldwell, NJ; Directions to our parish can be found here. Again, we welcome you to Saint Aloysius Roman Catholic Church!
Best Ac Repair haledon NJ company