No 1 # ac repair Lincoln Park NJ
At Lincoln Park NJ, we provide top-notch AC repair services in Lincoln Park NJ that you can trust. Our team of certified technicians is highly trained to handle all types of AC issues, ensuring that your cooling system remains in optimal condition. We're adept at diagnosing and fixing issues swiftly, promising minimal disruptions to your comfort at home or workplace. Utilizing advanced tools and techniques, we're committed to delivering reliable and efficient solutions. We uphold the highest quality standards, emphasizing preventive maintenance to prolong the lifespan of your AC, and ultimately, improve your indoor air quality. Trust us for professional AC repair in Lincoln Park NJ.
Get 24-hour service with no extra charges or fees
If you're experiencing issues with your heating system and you're based in Lincoln Park, NJ, finding an expert heating repair service is crucial. Our team of professional technicians is highly experienced in servicing a diverse range of systems, including furnaces, heat pumps, and other heating units. They are adept in performing diagnostics, repairs, installation, and regular maintenance work. With our prompt and efficient service, you can be assured of a comfortable, warm home during the coldest months of the year. So, if you're looking for a reliable Lincoln Park, NJ heating repair expert, look no further. We guarantee excellent workmanship and customer satisfaction to restore your heating system to optimal working condition.
Air Solutions LLC is a premier provider of air conditioning repair services you can depend on. Our team of expert technicians boasts extensive experience and in-depth knowledge in addressing various AC related issues. From diagnosing the cause of malfunction to carrying out effective repairs and maintenance, their proficiency is unparalleled. Whether it's replacing parts or troubleshooting system failures, our seasoned experts prioritize your comfort and satisfaction. At Air Solutions LLC, we ensure that your air conditioning unit performs optimally and efficiently, providing you with reliable comfort whatever the season. Trust in our commitment to deliver high-quality, timely service, and experience the difference a well-maintained air conditioning system can make. Count on us to keep your cool when it matters most.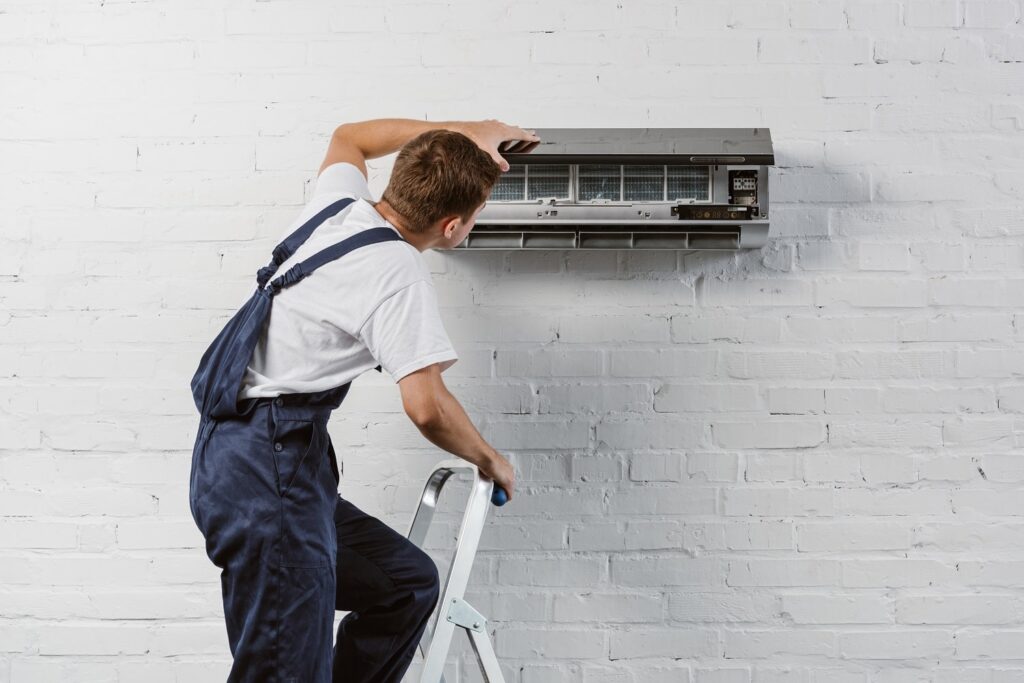 AC Installation Service in Lincoln Park, NJ
If you're seeking high-quality AC installation service in Lincoln Park, NJ, look no further. Our skilled and experienced technicians are committed to providing top-tier HVAC services, with a particular focus on air conditioner installations. We understand the importance of an efficiently working AC system in maintaining a comfortable indoor environment. Our team will guide you in choosing the most suitable AC unit for your space, ensuring energy efficiency, and optimal performance. We also prioritize safety and adhere to all local regulations. Trust us for reliable, speedy, and affordable AC installation services in Lincoln Park, NJ to improve your home or business' comfort levels.
Affordable Central AC installation in Lincoln Park NJ
Are you looking for affordable Central AC installation services in Lincoln Park, NJ? Look no further. We provide top-tier HVAC services that prioritize affordability and efficient installation of central air conditioning systems. Employing a team of highly skilled professionals with extensive experience in handling all AC systems, we guarantee an installation process that is swift, seamless, and tailored to suit your specific needs. We understand that staying within budget without compromising the quality of your central AC system is important. Therefore, our pricing is transparent, competitive, and designed to provide maximum value to our clients. The extreme temperatures during both summer and winter require a reliable and effectively functioning AC system. Don't let discomfort take over your home or business because of astronomical installation prices. Trust us for affordable Central AC installation in Lincoln Park, NJ, and experience the unrivaled blend of affordability, quality, and excellent customer service.
An Introduction to Lincoln Park NJ
Located in the heart of the Garden State, Lincoln Park, New Jersey is a vibrant community that exudes charm and a small-town appeal. Often considered one of the hidden gems in the state, this borough of Morris County appeals to those seeking serene living conditions in the midst of bustling Northeastern urban life.
The Lifestyle in Lincoln Park NJ
A wealth of outdoor activities makes Lincoln Park an attractive place to call home. The town is home to several well-kept public parks, ideal for recreational activities such as jogging, biking, and family picnics. The community takes pride in its top-notch school system, which plays a critical role in shaping the region's future leaders. For those seeking an active nightlife, the town is buzzing with local pubs, restaurants, and entertainment venues.
Community Involvement
The spirit of community engagement in Lincoln Park is admirable. The local government and community organizations routinely host events where residents participate in a variety of ways. From holiday parades to town-wide clean-up drives, the engagement of Lincoln Park residents is second to none.
Lincoln Park, NJ offers the best of both worlds – a tranquil living environment intertwined with a lively community spirit. It's no surprise that families, young professionals, and retirees alike are drawn to this remarkable town. One visit to Lincoln Park, and you may find it hard not to call it home.
Lincoln Park NJ Best Places
Lincoln Park Community Lake
Lincoln Park Community Lake covers an area of 5.7 acres. This park is suitable for walking, and family activities. Lincoln Park Community Lake is celebrated for its nice beach. In addition to its natural scenery, this park also has a playground.
The Sports Factory
The Sports Factory, a climate controlled indoor soccer facility in Lincoln Park, NJ. Hosting Soccer Camps, Soccer Training and available for field rental.
Twin Willows Par 3 Golf
Twin Willows is a challenging 10-hole, par 3 course designed to provide a full-length course feel in a par 3 setting. With holes range from 80 yards to 180 yards and greens protected by bunkers and rough, Twin Willows providers a great setting for beginner and advanced player alike. We are family-friendly and offer a variety of instructional programs for children and adults. In addition to the golf course, Twin Willows houses a 215 yard driving range, a large practice putting green, a golf fitness studio, and a friendly and knowledgeable staff that can help you reach your golf goals. Our short game practice facility is now open for membership. Tee-times are highly recommended
Do you offer 24/7 emergency AC repair services?
Yes, we do offer 24/7 emergency AC repair services in Lincoln Park, NJ. You can reach out to us at any time of the day or night and our team of trained technicians will be ready to fix your problem.
How frequently should I service my AC unit?
It is recommended that you have your AC unit serviced at least once a year. This helps to maintain its efficiency and prolong its lifespan.
What are the signs that my AC system may need repair?
Some signs that your AC system may need repair include: irregular cooling, unusual noises coming from the unit, increase in energy bills, foul or strange smells, frequent cycling of the unit, and high humidity levels in your home.
Best Ac Repair Lincoln Park NJ company