If you're in need of AC repair in Montclair, NJ, rely on local professionals who are well-versed in various HVAC services. They have the skills and knowledge to diagnose and fix a broad range of issues, from minor system glitches to major malfunctions. Montclair's high summer temperatures can put a strain on your AC unit, leading to sudden breakdowns. Don't suffer in the heat; prompt, efficient services will ensure your AC system is in optimal condition for year-round comfort. Remember, regular maintenance can also prevent future system failures and prolong the life of your air conditioning unit.
Get 24-hour service with no extra charges or fees
In search of a Montclair NJ Heating Repair Expert? Finding a reliable and professional service can be a daunting task. However, it is crucial, especially during the colder months, to ensure the uninterrupted efficiency of your heating systems. A certified and experienced technician will not only rectify the current issues but can also provide maintenance tips and regular checks to avoid future malfunctions. These experts are well-versed in diagnosing the issue, whether it's a minor glitch or a major breakdown, and propose the most effective solutions. A proficient Montclair NJ Heating Repair Expert ensures your heating system operates at its peak, guaranteeing a comfortable and warm home ambiance even in the harshest weather.
Air Solutions LLC is an industry-leading company specializing in air conditioning repair. We boast a team of expert technicians who have undergone intensive training to cater to all AC related issues efficiently and effectively. Our professionals are dedicated to ensuring reliable, lasting solutions that protect your comfort and your investment. We understand that a broken air conditioner can be a significant inconvenience, hence we provide prompt and accurate repairs to get your system up and running. We fully embrace innovation, utilizing state-of-the-art technology and advanced techniques to ensure your AC operates at peak performance. At Air Solutions LLC, we deliver not just fixes, but sustainable solutions for all your air conditioning needs.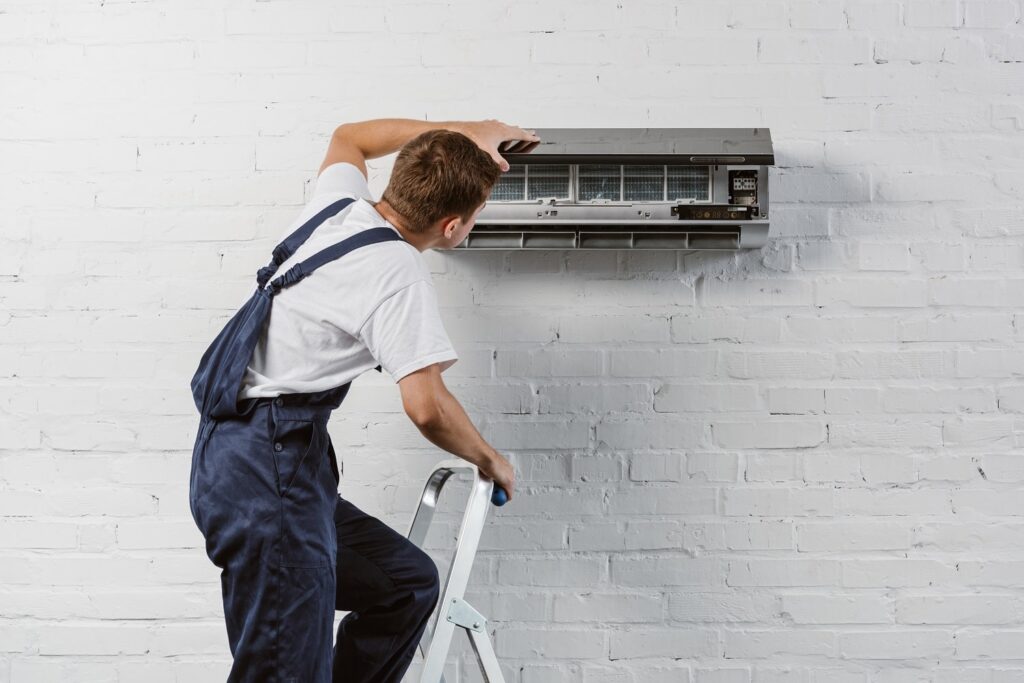 AC Installation Service in Montclair, NJ
If you're in Montclair, NJ and seeking stellar AC installation service, then look no further. Our team of experienced, licensed professionals is committed to delivering exceptional service. We understand that a properly installed AC system can significantly improve indoor comfort, particularly during the sweltering summer months. Using the latest tools and techniques, we ensure efficient and effective AC installation. Our reliable services don't just stop at installation, we provide comprehensive solutions inclusive of maintenance and repair needs. Trust us to prioritize your satisfaction and comfort as we uphold service quality, and maintain high-standard professionalism. Choose us for your AC installation service in Montclair, NJ for prompt, hassle-free, and superior service delivery.
Affordable Central AC installation in Montclair NJ
If you're looking for cost-effective Central AC installation in Montclair NJ, we are proficient in offering high-quality and reliable service. Our team of certified technicians are experienced in the latest air conditioning technology and trained to provide installations in a proficient, timely manner. We understand the importance of having a comfortable and cool home, especially during the hot summer months, and we ensure that our central AC installations will meet your cooling needs. We strive to provide budget-friendly solutions and efficient installations. Our client's comfort and satisfaction are our top priorities, that's why we provide affordable rates, quick service, and quality products for Central AC installation. You can trust us for your air conditioning installation, maintenance, and repair needs at any hour. We are dedicated to providing superior services to the residents of Montclair NJ and guarantee a great experience with our team.
Introduction to Montclair NJ
Montclair, New Jersey, a thriving suburb of New York City, welcomes everyone with its iconic culture, captivating art scenes, and innovative dining experiences. Frequently touted as one of New Jersey's most sought-after destinations, this culturally rich town is characterized by its progressive lifestyle, diverse population, and compelling historic charm.
A Cultural Hub
The cultural tapestry of Montclair is both vibrant and dynamic. Home to the Montclair Art Museum, an array of galleries, and a myriad of theater companies, the town is a beacon for art enthusiasts and creative minds. Its robust calendar of cultural events and festivals is a testament to the town's commitment to arts and entertainment.
Progressive Education Institutions
With an emphasis on progressive education, Montclair houses several nationally recognized public schools and Montclair State University, one of the largest and most diverse universities in the state. This commitment to education helps shape the town's intellectual climate and livens the community spirit.
Unparalleled Dining Experiences
In Montclair, dining goes beyond a mere meal. The township is renowned for its eclectic mix of restaurants that serve a wide range of cuisines. From fine dining institutions to cozy cafés, culinary explorers can savor an unforgettable gastronomic journey in Montclair.
Conclusion
Montclair, NJ, with its unique attractions and diverse community, stands as an embodiment of cultural harmony and progressive living. Its enchanting blend of historic grace, artistic aura, top-tier education, and food culture gives Montclair a distinctive identity and a magnetic appeal. Celebrated for its sense of community, exceptional lifestyle, and cultural diversity, Montclair, New Jersey, beckons to all who seek a vibrant and inclusive environment.
Kossuth Street School
Kossuth Street School is located in Haledon, Passaic County, New Jersey, United States. The schoolhouse was built in 1894 and was added to the National Register of Historic Places on April 10, 1980.
The Yard Haledon
Great place to come and relax. We always have a smile, cold drink and great food ready for you.
American Labor Museum Inc
The Pietro and Maria Botto House, also known as Pietro Botto House, at 83 Norwood Street, Haledon in Passaic County, New Jersey, United States, is where leaders of the Industrial Workers of the World union spoke to the 25,000 striking workers of the Paterson Silk Strike of 1913.
Best Ac Repair haledon NJ company