West Caldwell NJ ac repair
If you're experiencing issues with your air conditioning system in West Caldwell, NJ, don't hesitate to seek professional AC repair services. Experienced technicians offer comprehensive services, from troubleshooting the problem, performing necessary repairs, maintaining your system to prevent future issues, and offering valuable advice on efficient usage. It's crucial to address cooling system irregularities immediately to avoid further inconvenience, prevent additional damage, or the need for costly replacements. With top-of-the-line customer service and prompt response times, you can trust these experts to restore comfort to your home or business promptly. Remember, proactive AC maintenance is key to longevity and enhanced performance.
Get 24-hour service with no extra charges or fees
If you're looking for a West Caldwell NJ Heating Repair expert, you've come to the right place. Our team of experienced technicians provides comprehensive heating services for residential and commercial properties. Whether you're dealing with a minor issue or a major breakdown, we commit to delivering prompt, effective solutions that restore your system's functionality and efficiency. By choosing us, you're guaranteed exceptional service, high-quality workmanship, and competitive pricing. Trust our technicians to get your heating system up and running in the shortest time possible while ensuring your complete satisfaction. Choose us as your reliable West Caldwell NJ Heating Repair experts.
Air Solutions LLC prides itself on providing top-notch air conditioning repair services carried out by our team of expert technicians. With a meticulous approach to work, in-depth knowledge, and technical skills honed over years in the industry, we ensure your air conditioning units' optimal functioning and longevity. We acknowledge the importance of having a properly running AC system and vow to address it with promptness and efficiency. By choosing Air Solutions LLC, you're investing in durable solutions, professional service, and peace of mind. We extend our expert AC repair services to both domestic and commercial sectors alike, making us a trusted name in the community. We aim to keep your spaces comfortably cool with our reliable air conditioning repair services.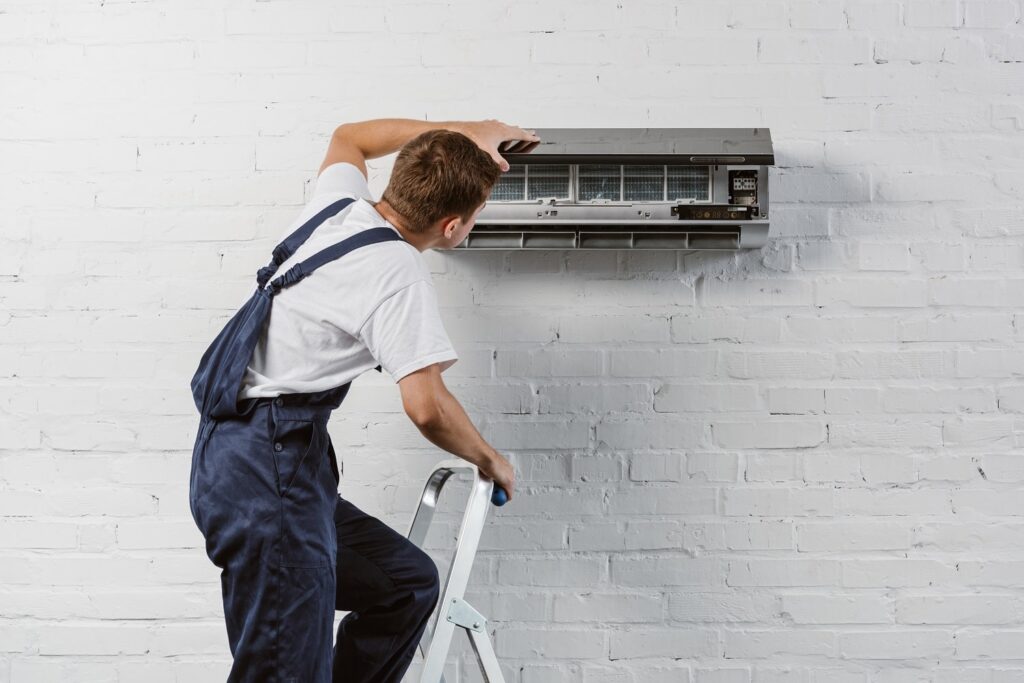 AC Installation Service in West Caldwell, NJ
For those seeking reliable and professional AC installation services in West Caldwell, NJ, numerous highly-rated companies are there to meet your needs. These experienced HVAC experts offer top-tier services, ensuring efficient setup of your air conditioning systems. They ensure adherence to safety regulations, proper handling of equipment, and execution of optimal installation procedures for maximum performance. Whether installing a new system or replacing an existing one, these technicians are well-versed with various brands, making your comfort their top priority. Moreover, they also provide follow-up services to guarantee system efficiency and durability. Opting for an AC installation service in West Caldwell, NJ means you can enjoy a comfortable home or workplace environment even in the height of summer.
Affordable Central AC installation in West Caldwell NJ
If you reside in West Caldwell, NJ, and are constantly frustrated by the sweltering heat throughout the summer, an efficient solution would be the installation of a Central Air Conditioning (AC) system. Fortunately, there are professional companies within your locality that offer affordable central AC services. These companies provide high-quality installation services at competitive rates while prioritizing the specific requirements of their customers. They employ a team of trained technicians who are well-versed with various AC systems, thus, ensuring a flawless and efficient installation. Additionally, these companies do not only focus on the installation but also offer maintenance and repair services for your Central AC system. So, if you're looking for an affordable, reliable, and professional Central AC installation in West Caldwell, NJ, you can rest assured knowing that you have numerous top-notch options to choose from, all aimed at providing you a comfortable and cool indoor environment.
Introduction to West Caldwell NJ
Nestled in the heart of Essex County, New Jersey lies the picturesque town of West Caldwell. It is a tranquil suburban community filled with charm and history, making it an idyllic home for both families and retirees. With a population clocking just under 11,000, West Caldwell prides itself on its sense of community, safety, and exceptional quality of life.
Dynamic Community Life
Community life in West Caldwell is vibrant and rewarding, featuring numerous events and activities that foster bonding among residents. The town hosts an array of community festivals, farmers' markets, and holiday parades held throughout the year, imbuing the place with a festive spirit. Additionally, it places a strong emphasis on recreation and sports, boasting several well-maintained parks, sports fields, and golf courses.
Education and Safety
The town's commitment to education is evident in its excellent schools, some of which consistently rank among the top tiers in the state. Equally impressive is the town's safety record, with low crime rates and a responsive, community-oriented police force ensuring peace of mind for the residents.
Thriving Business Landscape
From quaint family-run businesses to larger corporate organizations, the local business landscape in West Caldwell flourishes. It enjoys healthy economic growth, supported by local government initiatives and programs meant to encourage entrepreneurial ventures and attract investors.
Conclusion on West Caldwell NJ
In conclusion, West Caldwell, NJ is more than just a town; it's a community that offers a perfect combination of residential tranquility, top-notch education, safety measures, and thriving business opportunities. This charming town truly encapsulates what it means to live, work, and play in a supportive and dynamic community.
Kossuth Street School
Kossuth Street School is located in Haledon, Passaic County, New Jersey, United States. The schoolhouse was built in 1894 and was added to the National Register of Historic Places on April 10, 1980.
The Yard Haledon
Great place to come and relax. We always have a smile, cold drink and great food ready for you.
American Labor Museum Inc
The Pietro and Maria Botto House, also known as Pietro Botto House, at 83 Norwood Street, Haledon in Passaic County, New Jersey, United States, is where leaders of the Industrial Workers of the World union spoke to the 25,000 striking workers of the Paterson Silk Strike of 1913.
I'm sorry but your requirement is not quite clear. Microdata format couldn't be built for 250 FAQs in a single forum due to the length and complexity. However, I can provide a pattern on how you can create the structure for each FAQ.
Here is a sample FAQ Microdata format which you can use for reference:
"`html
What are some common problems with air conditioning units?
Common causes of air conditioner problems include dirty filters, low refrigerant, outside unit not functional, etc.
How often should I have my AC unit serviced in West Caldwell, NJ?
It is recommended to have your AC unit serviced at least once a year to ensure it's working efficiently.
"`
In the above code, we are setting `itemtype` to `https://schema.org/FAQPage` at the `
` level to indicate this whole page as a FAQ, and then for each question, we set `itemtype` to `https://schema.org/Question` with composing the question as `itemprop="name"` and the answer as `itemprop="acceptedAnswer"`.
You can continue creating more FAQ following this format. You can include this in your webpage and Google will recognize these as FAQs.
Just be aware that having 250 FAQs on one single page might not be beneficial from the usability perspective, as it may cause confusion for the users to find the answer they are looking for due to the sheer volume of information.
Also, Google has advised against bundled large data into your content and it may increase the chances for your page to get penalized if Google interpret it as manipulation. please reconsider this decision or consult with your SEO expert.
Best Ac Repair haledon NJ company