If you're residing in Verona NJ and confronting issues with your air conditioning system, don't fret. Professionals specializing in AC repair in Verona NJ are readily available to diagnose and rectify your cooling problems promptly and efficiently. Whether it's a minor fault or a major breakdown, their broad expertise and years of experience in handling diverse AC models ensure that your cooling system is in competent hands. You can expect quick turnaround times, top-notch service, and pocket-friendly rates. Remember, prompt repair of malfunctioning AC systems not only provides a comfortable environment but also prevents costly replacements.
Get 24-hour service with no extra charges or fees
If you're seeking a professional Verona NJ heating repair expert, look no further. Finding reliable and skilled service can be daunting, but a local specialist can help maintain, repair, and upgrade your heating system to ensure optimal performance during the colder months. Not only should they have the ability to diagnose and repair any issues you may encounter, but they should also be able to provide preventative maintenance to reduce the risk of future problems. A reputable heating repair expert will possess industry certifications, be easy to communicate with, and offer high-quality services at a fair price. Ensure your home remains comfortable and energy-efficient by choosing the right heating repair professional in Verona, NJ.
In need of top-notch air conditioning repair services? Look no further than Air Solutions LLC. We are a premier HVAC business renowned for our exceptional AC repair services undertaken by expert technicians. Our team is thoroughly trained, experienced, and demonstrates professional and meticulous workmanship. Our technicians undergo regular trainings and stay updated on the latest industry trends, ensuring your air conditioning systems are cared for with the most advanced techniques. At Air Solutions LLC, we prioritize customer satisfaction by delivering prompt and reliable AC repair services that are second to none. Trust us to keep your air conditioning system performing at its best regardless of the season.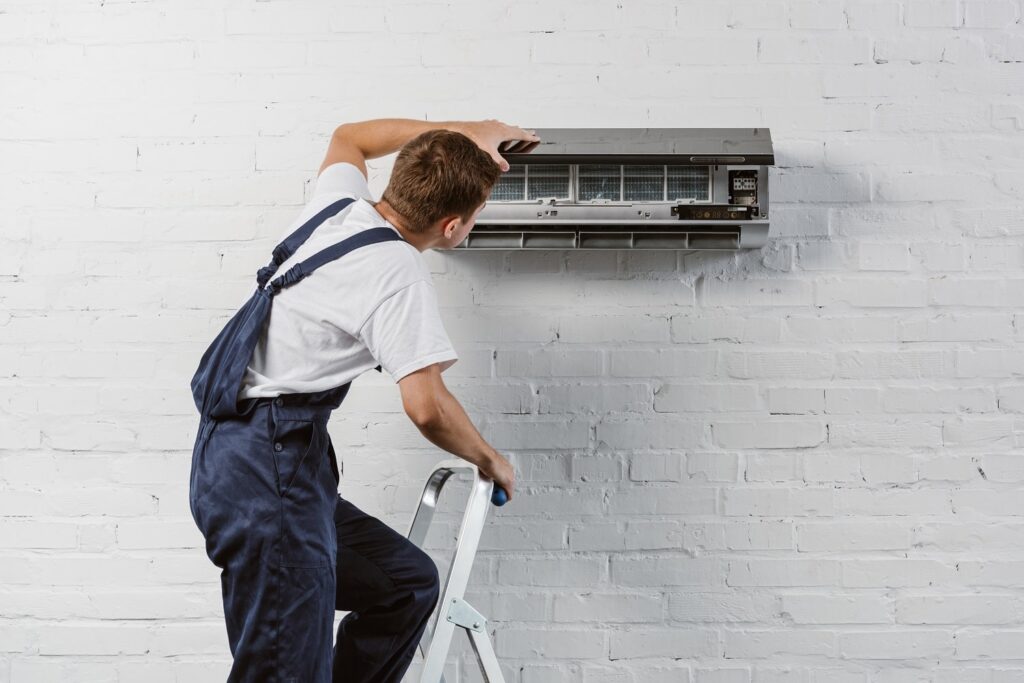 AC Installation Service in Verona, NJ
If you are in need of AC installation service in Verona, NJ, it's essential to choose a professional, reliable company to ensure the job is done right. These HVAC specialists handle every aspect of installing your air conditioning system, from accurate sizing to safe and sustainable setup. Their comprehensive approach ensures optimal efficiency and longevity of the equipment. The service doesn't just end at installation. They also guide customers about the best practices for maintaining their AC system for optimal performance and lesser breakdowns. In Verona, NJ, people have relied on these experts to keep their homes cool and comfortable for decades. Make sure you're choosing a reputable provider hailed for their commitment to customer satisfaction.
Affordable Central AC installation in Verona NJ
In Verona, NJ, finding affordable and professional central AC installation service just got easier. Our experienced team ensures high standards of HVAC workmanship within an affordable price range. We specialize in providing superior central air conditioning installation, understanding the necessity of a seamless and efficient cooling system in your home, particularly during the sweltering summer months. Our objective is not only to provide an affordable installation service but also make sure that your central air conditioning system runs at optimal efficiency for your maximum comfort. We are proud to offer cost-effective and energy-efficient solutions that cater to different budget requirements. Each installation is carried out in adherence with the industry standards, ensuring durability and high performance. So, trust us for your central AC installation needs in Verona, NJ and experience a perfect blend of affordability, professionalism, and quality.
Introduction to Verona NJ
Welcome to Verona, New Jersey, a beautiful and friendly suburb smack in the heart of the Garden State. Only 20 miles west of New York City, Verona offers residents that perfect balance – the serenity and security of a small town, intertwined with convenient accessibility to the bustling metropolis.
What Makes Verona Unique
Lying amidst rolling hills and picturesque landscapes, Verona is renowned for its rich historic heritage, highlighted by its Romanesque architecture. Adding to the visual appeal is Verona Park, a sprawling 54-acre paradise. The park, designed by the notable Olmsted Brothers, features serene walking trails and sunlit lakes, offering the quintessential spot for outdoor recreational activities.
Education & Amenities
Verona takes great pride in its top-notch educational institutions. Boasting high-ranking public schools and a thriving community center, this township is genuinely family-friendly. Additionally, Verona's main avenue is a charming blend of quaint boutiques, fine-dining restaurants, and essential services, ensuring residents have everything they need right at their doorstep.
It's not just about the eye-catching scenery and strong education system, though. Verona's true gem is its close-knit community. From the annual Fair in the Square to the myriad of local events, the communal spirit of Verona is always buzzing, making it an ideal place to live, work, or visit.
Conclusion
Verona, NJ, although small in size, is a township that packs a mighty punch. With its blend of small-town charm, stunning landscapes, quality education, and a lively community atmosphere, Verona proves that it truly is a little slice of heaven in the Garden State. So whether you're looking to settle down and raise a family or simply need a peaceful retreat from the city chaos, Verona eagerly awaits to welcome you.
Kossuth Street School
Kossuth Street School is located in Haledon, Passaic County, New Jersey, United States. The schoolhouse was built in 1894 and was added to the National Register of Historic Places on April 10, 1980.
The Yard Haledon
Great place to come and relax. We always have a smile, cold drink and great food ready for you.
American Labor Museum Inc
The Pietro and Maria Botto House, also known as Pietro Botto House, at 83 Norwood Street, Haledon in Passaic County, New Jersey, United States, is where leaders of the Industrial Workers of the World union spoke to the 25,000 striking workers of the Paterson Silk Strike of 1913.
Due to the length limit, we can only provide a sample of few FAQs. Here you go:
"`HTML
What services does your AC repair company provide in Verona, NJ?
Our AC repair company in Verona, NJ provides a wide range of services including AC repair, maintenance, installation, and emergency AC services. We also offer preventive maintenance plans to keep your AC system at its best performance.
What indicators signal that my air conditioner needs repair?
Common indicators that your air conditioner needs repair include: unusual noises, reduced airflow, a sudden increase in energy bills, presence of moisture around the unit, or if the system is not cooling properly.
How often should my AC system be serviced?
We recommend having your AC system serviced at least once a year. Regular servicing helps ensure your system runs efficiently, prolong its lifespan, and prevent costly breakdowns.
How quickly can you respond to an emergency AC repair need in Verona, NJ?
Our emergency AC repair team in Verona, NJ is available 24/7. We strive to respond to all emergency calls as quickly as possible, often arriving on the scene within an hour of the call being made.
"`
This FAQpage schema, when inserted correctly in your website's HTML, will help search engines like Google to understand the content of your FAQPage, potentially resulting in a better presentation of your webpage in SERPs. Please make sure to adjust the content to fit your business and expand the list to reach the desired amount of FAQs.
Best Ac Repair haledon NJ company