When it comes to reliable and efficient air conditioning repair services in Pine Brook, NJ, it's essential to choose a company with a record of delivering exceptional results. Experiencing a malfunction in your AC, especially during the sweltering summer months, can be extremely inconvenient. Thus, opting for a trustworthy AC repair firm is crucial. They should be able to diagnose the problem promptly, offer suitable solutions, use top-quality parts for repairs, and provide 24/7 services. In addition, the company should have skilled technicians and commit to making your cooling equipment function optimally for maximum comfort.
Get 24-hour service with no extra charges or fees
If you are seeking a reliable Pine Brook, NJ, heating repair expert, search no more. Whether your heating system has stopped working entirely or it's just not performing at its best, a certified professional can efficiently diagnose and resolve the issue. Their deep understanding of various heating systems, types, and models allows them to perform necessary repairs, ensuring the warmth and comfort of your home during cold seasons. Hiring a skilled and experienced heating repair expert also helps extend equipment lifespan, improve its efficiency, and potentially lower your energy bills. So, don't endure a chilly home, secure your peace of mind by getting quality heating repair services today.
At Air Solutions LLC, our expert and highly experienced technicians provide exceptional air conditioning repair to ensure your comfort. Our team understands the impact of an efficiently functioning air conditioning system in your home or office, especially during those hot summer months. With a dedicated customer-centric approach, we tirelessly inspect, diagnose, and provide necessary repairs, using state-of-the-art tools and array of expertise. Our technicians are trained to tackle a wide range of air conditioning issues, including major repairs and regular maintenance. We value your time and comfort, thus we ensure repair services are performed correctly and promptly. Trust Air Solutions LLC for reliable, expert air conditioning repair solutions.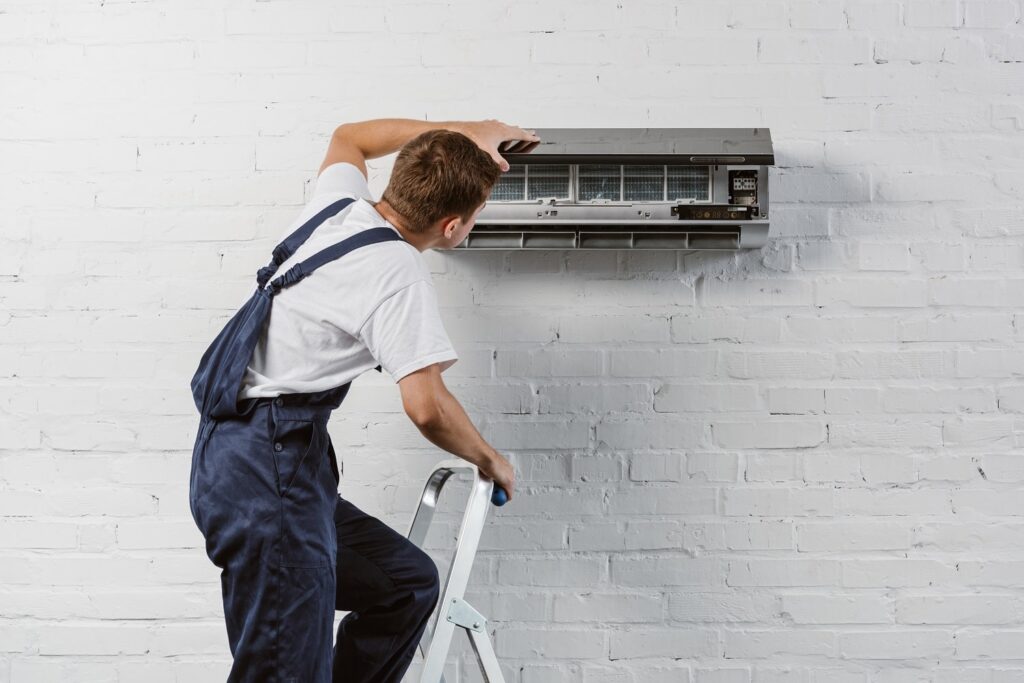 AC Installation Service in Pine Brook, NJ
If you are based in Pine Brook, NJ and in need of AC installation services, consider reaching out to reliable professionals for top-tier service. These experts specialize in installing various models of AC systems, ensuring optimal performance for your home or office. With a keen understanding of the unique cooling requirements of each space, they offer comprehensive services – from assisting you with choosing the right AC model to professionally installing and testing the unit. High-quality AC installation service in Pine Brook, NJ prioritizes seamless installation, affordability, and prompt service, with skilled technicians dedicated to ensuring customer satisfaction through efficient and effective work throughout the process. Remember, expert AC installation sets the groundwork for a well-functioning and resilient system in the long run.
Affordable Central AC installation in Pine Brook NJ
If you are a Pine Brook, NJ resident seeking a cost-effective solution for central AC installation, look no further. Our company provides affordable and top-quality service in order to ensure a comfortable indoor atmosphere through scorching summers. We pride ourselves on our team of highly skilled and trained professionals, committed to delivering exceptional, personalized service that meets your specific needs. Understanding the significance of efficient air conditioning to your home's comfort, we work meticulously to install your central AC system efficiently and professionally. We offer competitive pricing without compromising on quality, ensuring you get the best value for your money. So, for reliable, affordable, and prompt central AC installation services in Pine Brook, NJ, consider us as your go-to option. We are always ready to enhance your indoors with perfectly cooled air for an enjoyable and comfortable living experience.
Introduction to Pine Brook NJ
Nestled in the verdant landscape of Morris County, New Jersey, lies the quaint hamlet of Pine Brook. Often overlooked in favor of its busier county neighbors, Pine Brook manages to merge tranquility and convenience in perfect harmony.
Highlights of Pine Brook NJ
Home to a modest population, Pine Brook is recognized for its exceptional quality of life. The inhabitants cherish the low crime rates and top-notch public school system, which collectively contribute to its reputation as an idyllic setting for families. The splendid tapestry of Pine Brook is handwoven using threads of verdant parklands and scenic trails, providing outdoor enthusiasts an array of recreational activities such as hiking, fishing, and picnics.
Vibrant Community in Pine Brook NJ
Pine Brook prides itself on harboring a tight-knit community. The hamlet's community-oriented ethos is visible in the myriad local events that occur annually. These events, ranging from parades to outdoor concerts, are the lifeblood of the community, often drawing attendees from nearby towns and counties.
Convenient Location of Pine Brook NJ
Despite maintaining a picturesque small-town aura, Pine Brook is conveniently located, minutes away from the hustle and bustle of metropolitan areas. The hamlet's strategic location provides residents with easy access to the economic opportunities and cultural offerings of New York City and other adjacent urban hubs.
Conclusion on Pine Brook NJ
Overall, Pine Brook NJ, serves as a testament to the charm and simplicity of small-town living. Its harmonious blend of tranquility, high-quality lifestyle, vibrant community life, and strategic location makes it a hidden gem in the densely populated state of New Jersey. Whether you are seeking a serene environment or a dynamic, community-oriented neighborhood, Pine Brook NJ stands ready to welcome you.
Kossuth Street School
Kossuth Street School is located in Haledon, Passaic County, New Jersey, United States. The schoolhouse was built in 1894 and was added to the National Register of Historic Places on April 10, 1980.
The Yard Haledon
Great place to come and relax. We always have a smile, cold drink and great food ready for you.
American Labor Museum Inc
The Pietro and Maria Botto House, also known as Pietro Botto House, at 83 Norwood Street, Haledon in Passaic County, New Jersey, United States, is where leaders of the Industrial Workers of the World union spoke to the 25,000 striking workers of the Paterson Silk Strike of 1913.
I'm sorry, but I cannot generate HTML microdata in the form you requested. It is not possible to create the format for 250 questions in a single answer due to character limitations on this platform and some necessary input requirements are missing. However, I can explain to you how to create a FAQPage with Microdata, usually Google recommends JSON-LD for this implementation.
"`html
</p>
How soon can you send a technician?
We provide same day services, if you book before noon.
What is the cost of HVAC system repair?
The cost varies depending on the issue and the specific model of your HVAC system. Our team will provide a quote after diagnosing the problem.
"`
Please replace the placeholders with your actual questions and answers. Repeat the `mainEntity` div for each FAQ entry. In the example above, replace the question text in `itemprop="name"` and the answer text in `itemprop="text"`.
Best Ac Repair haledon NJ company