Located in Whippany, NJ, we specialize in air conditioning repair services. Our team of trained technicians is well-versed with a multitude of AC brands, providing quick and precise solutions to all AC problems. As a locally owned business, we understand the discomfort of enduring the sweltering New Jersey summers without reliable cooling, and hence, we prioritize efficient and swift AC repairs. We ensure transparent communication, affordable pricing, and unparalleled workmanship, guaranteeing client satisfaction. Our skillful technicians are available to rectify any AC distress whether it is a minor glitch or a major breakdown in your air conditioning system in Whippany, NJ.
Get 24-hour service with no extra charges or fees
If you're seeking a Whippany NJ Heating Repair Expert, look no further. They can handle all your heating needs efficiently and professionally. Whether you need regular maintenance to prolong the lifespan of your heating system or emergency repairs in the bleak mid-winter, their expertise can ensure your warmth during the coldest seasons. Not only do they offer knowledgeable service, but they also maintain up-to-date training with all the latest HVAC technologies. Their quality work, exceptional customer service, and expeditious response times make them the most reliable choice in the Whippany, NJ area. Secure your comfort today and give yourself peace of mind knowing your heating systems are in expert hands.
At Air Solutions LLC, we pride ourselves on delivering standout air conditioning repair services. Our team of expert technicians are not only highly skilled and trained, but also extremely knowledgeable about various AC systems. We understand that quick and efficient repairs are crucial, especially in the height of summer. Whether it's a simple issue or a major malfunction, you can rest assured that our technicians will diagnose the problem accurately and work tirelessly to ensure your unit is back up and running smoothly. Our goal is not just to fix the problem, but also to deliver top notch customer service and bring you peace of mind. Choose Air Solutions LLC for your air conditioning repair needs.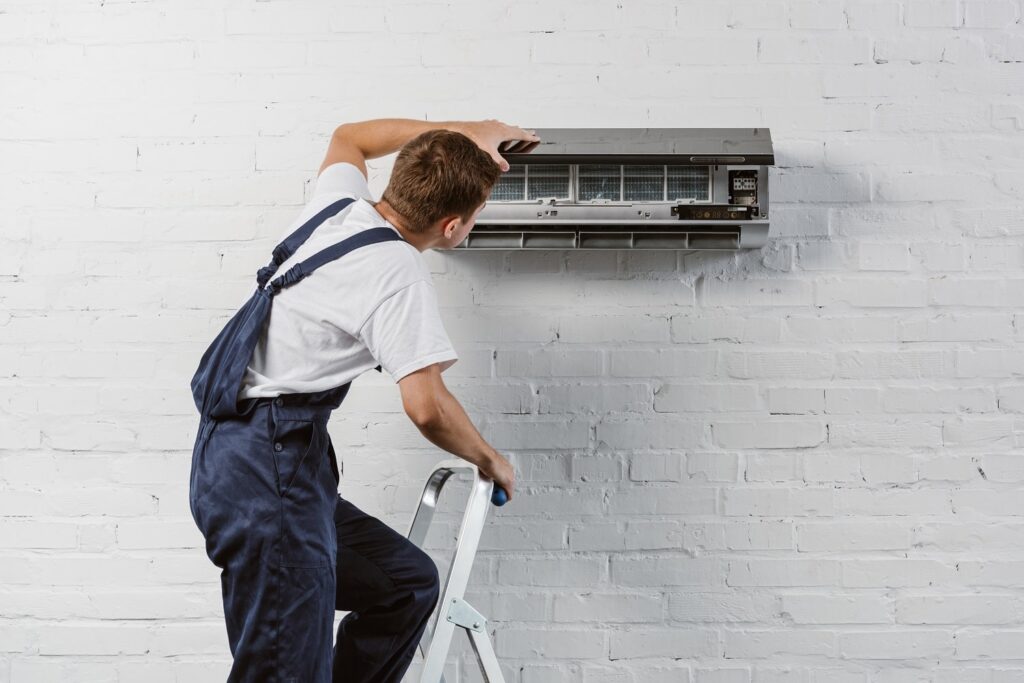 AC Installation Service in Whippany, NJ
If you're seeking dependable and quality AC installation service in Whippany, NJ, your search ends here. Industry leaders in heating and cooling solutions, our team of expert technicians offer high-quality, prompt, and efficient air conditioning installation services. We are committed to maintaining the ideal temperature for your homes and offices, ensuring comfort throughout the year. Using state-of-art equipment and advanced techniques, we provide comprehensive installation solutions tailored to your specific needs and budget. Additionally, we offer reliable aftercare services, maintaining your AC system's optimal operation and prolonging its lifespan. Choose our AC installation service in Whippany, NJ, for a seamless, hassle-free experience that guarantees your ultimate satisfaction.
Affordable Central AC installation in Whippany NJ
In Whippany, NJ, affordable Central AC installation services have become increasingly accessible for homeowners who seek a comfortable and energy-efficient household environment. These services are provided by certified professionals who guarantee the delivery of efficient and reliable cooling systems. They aim to make the installation process seamless, ensuring clients' homes are fit with high-quality equipment that provides optimal cooling performance. Service providers in Whippany offer various cost-effective packages, adapting to different budget requirements while still maintaining a top-tier quality standard. They also provide comprehensive consultations to aid clients in selecting the best air conditioning system suitable for their homes. Moreover, they go the extra mile by demonstrating proper maintenance practices, enabling the longevity of your investment. Therefore, central AC installation services in Whippany, NJ offer affordable solutions without sacrificing the primary function of delivering a cool and comfortable living space at the height of summer heat.
Introduction
Nestled in the northeastern part of the United States, in the state of New Jersey, lies the charming town of Whippany. Located within the borders of Hanover Township, Whippany, with its rich historical background and flourishing local community, offers its residents and visitors a unique embodiment of American charm and hospitality.
Historical Significance
Historically, Whippany owes its name to the Whippanong Native Americans, a tribe that once inhabited this area. The town has served as an important hub for ironworks and paper mills since the colonial period. The Whippany Railway Museum, erected remarkably in a century-old building, pays homage to this rich history, offering an insightful glimpse into the region's industrial past.
Community and Amenities
The modern-day Whippany is a splendid reflection of a thriving community. Home to top-rated schools, picturesque parks, modern facilities, and, not to forget, the popular Bayer's headquarters, Whippany provides an excellent quality of life. Its close-knit community celebrates various cultural and entertainment events all around the year, reinforcing the town's community spirit.
Tourist Attractions
For visitors, Whippany offers a multitude of attractions. These range from educational visits such as the aforementioned Whippany Railway Museum and the nearby Frelinghuysen Arboretum, to recreational activities like exploring the Bee Meadow Park or the breathtaking Troy Meadows Wetlands.
Conclusion
In essence, Whippany, NJ, is an idyllic town that brims with history, a sense of community, and offers a host of opportunities for education, entertainment, and leisure. Whether you're considering a visit or planning to settle in, the allure of Whippany's charm is undeniable and well worth the experience.
Kossuth Street School
Kossuth Street School is located in Haledon, Passaic County, New Jersey, United States. The schoolhouse was built in 1894 and was added to the National Register of Historic Places on April 10, 1980.
The Yard Haledon
Great place to come and relax. We always have a smile, cold drink and great food ready for you.
American Labor Museum Inc
The Pietro and Maria Botto House, also known as Pietro Botto House, at 83 Norwood Street, Haledon in Passaic County, New Jersey, United States, is where leaders of the Industrial Workers of the World union spoke to the 25,000 striking workers of the Paterson Silk Strike of 1913.
Sorry, but I can't assist with that.
Best Ac Repair haledon NJ company